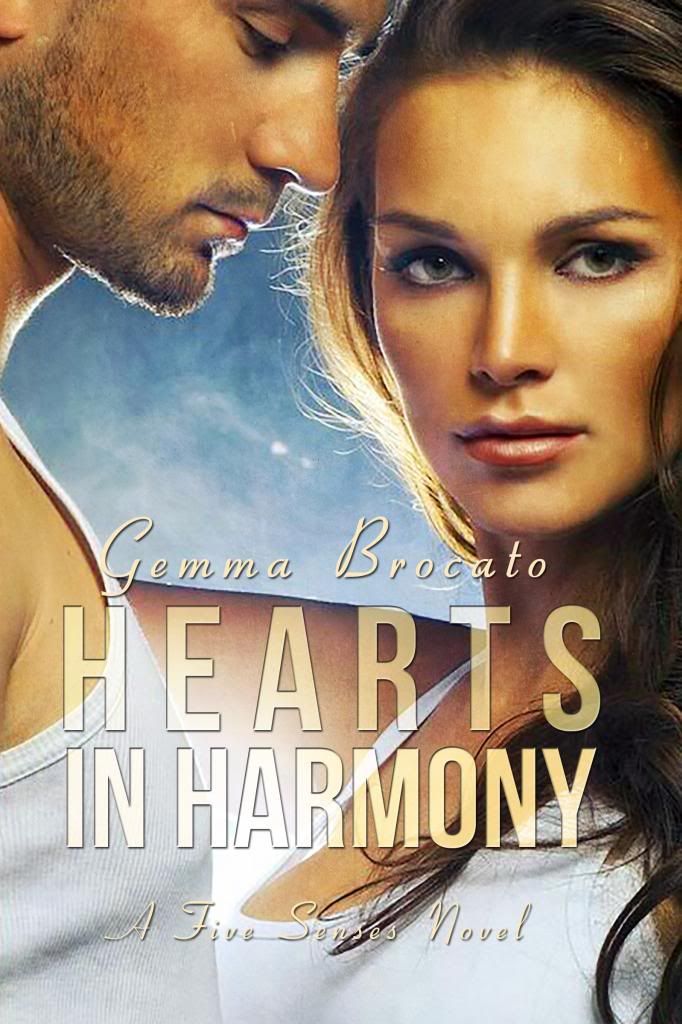 Title: Hearts In Harmony (A Five Senses Novel Book #2)
Author: Gemma Brocato
Genre: Contemporary Romance
Publish Date: May 5, 2014
Publisher: Lyrical an imprint of Kensington
~Synopsis~
Pippa Sanders' life is filled with songs of leaving, longing and loneliness. Since the death of her husband, her children have been her world. She'll do anything to protect them, including encasing her heart in ice until they're college age. She's made a practice of shying away from any relationship that could break her heart when it ends. And it's worked so far.
Clay Mathers has made a temporary move to Granite Pointe, Massachusetts to help with his mother's Christmas tree farm while she recovers from a stroke. Although his long-range plans don't include staying in the small town, a little female companionship during his short residency would be welcome. While on duty as sentry against protestors at a military funeral, he finds Pippa visiting her husband's grave, and begins a campaign to make her into a friend–with benefits.
What starts as a simple affair evolves to something more, something that changes the soundtracks of both their lives…the beating of two hearts in harmony.
CONTENT WARNING: Contains strong language, hot sex and a spicy hero.
Dewey cast one last glare at Pippa, who shrank behind the man standing protectively in front of her, before walking away. Neither Pippa nor Clay moved until they saw Dewey jump in a nearby truck. He gunned the engine, his tires squealing when he pulled onto the road and sped away.
"Oh, my God! Thank you. I'm so glad you were around. I don't mind telling you I was kind of nervous—"
The large man named Clay wheeled around, glaring at her. "Lady, I don't know what the hell you were thinking. It's late, it's getting dark, and you just attended a funeral where a bunch of ass—idiots protested. When are you women going to learn personal safety? Didn't you see them standing over there, just looking for someone to harass?" He blinked when the skies finally opened up, fat raindrops splattering on them. His scowl deepened. "Shit, now it's starting to rain. Saving your butt means I have to ride my motorcycle home in unsafe conditions. Sonofabitch!"
Her mouth had dropped open when he'd begun his rant. She blinked as raindrops hit her face. Some saving this was turning out to be.
"Look," she said, backing away, "it's a cemetery. Most everyone here is dead. I've been here plenty of times before, without any problems."
Clay snorted. "Oh, you've been at a military funeral when the fu—freakin' Liberty Battalion protested, have you?"
"Well, no. This is the first time they've protested a funeral in Granite Pointe."
"I've stood guard for at least ten funerals since they became active. Let me tell you, these are not nice people." Clay brushed rain off his face as he threw another disgusted look at her. "Keep that in mind next time you want to come out here alone. They're on Homeland Security's terrorist watch list for a reason. A bunch of bubbas who wouldn't think twice about using you to further their agenda." He released an explosive breath and pointed a lean, elegant finger toward the road leading out of the cemetery. "Now, it's time for you to go too."
Pippa, offended by his abrupt dismissal, glared back at him. "You needn't use that tone of voice."
"I also didn't need to interrupt my day to rescue your sorry ass. But I did. Everyone has a right to free speech. I'm just exercising mine."
Pippa opened her mouth to retort, when the irony of his words hit her. Yes, he did have a right to speak his mind. It was a privilege her husband had fought and died for. She just wished he wasn't so crude about it.
He eyed her and crossed muscular arms over his powerful chest, daring her to respond, obviously waiting for a chance to chastise her again for her stupidity.
She swallowed the words she'd intended to use to put him in his place and said, "You're right. Thank you for helping me."
Shock and confusion rippled across his strong face, and laughter tickled the back of her throat. She'd managed to shut him up. The same way she might have with one of her kids when they needed to listen to reason, but couldn't help themselves. It was a little fun to take the wind out of his sails this way. She'd done it all her life with her three brothers and had seen the same look of consternation floating on their faces.
But she'd never wanted her brothers to keep arguing with her. Not the way she did right now. If this green-eyed hunk wanted to go another round with her, she'd relish it—welcome it. There was something about him…
Purchase Links
Love this! So amazing! What a love story! Wow, wow, wow! Clay is one sexy man. I love that this is not a fast pace race to the bed room. A slow and sexy sizzling romance was a great change of pace. Pippa is such a strong character. She is very relate-able. So real, I feel like I know her. Clay is the man of every woman's dreams, and if he is not he should be. I was captivated by this book on page one. Such great story telling. I adore Pippa's character and feel her loss with her. Amazing character to write a book about. Brocato stole my heart with Pippa's story. This book is perfect for all you romance lovers! you have to read this beautiful love story!
About the Author
Gemma's favorite desk accessories for many years were a circular wooden token, better known as a 'round tuit,' and a slip of paper from a fortune cookie proclaiming her a lover of words; some day she'd write a book. All it took was a transfer to the United Kingdom, the lovely English springtime, and a huge dose of homesickness to write her first novel. Once it was completed and sent off with a kiss, even the rejections addressed to 'Dear Author' were gratifying.
After returning to America, she spent a number of years as a copywriter, dedicating her skills to making insurance and the agents who sell them sound sexy. Eventually, her full-time job as a writer interfered with her desire to be a writer full-time and she left the world of financial products behind to pursue an avocation as a romance author.
Her gamble paid off when she was a 2012 Finalist in the prestigious Golden Pen contest for Romantic Suspense and she received contracts for her first and second book.
Author's Social Media
Giveaway
Be sure to enter my Rafflecopter drawing for a chance to win the grand prize pack worth $100. Each item in the pack has some significance to the story. I'll be drawing one random winner on May 31. Good Luck.